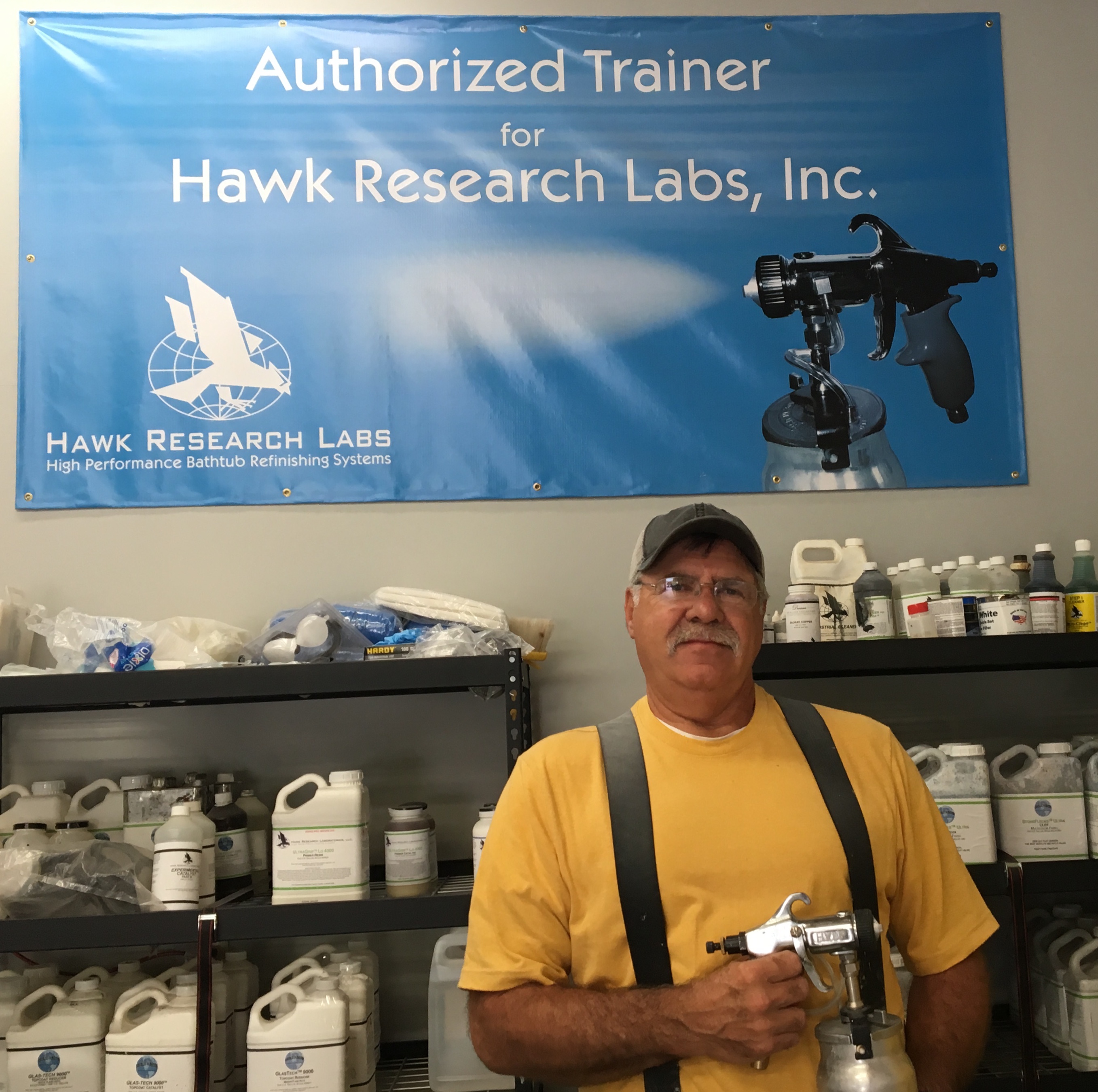 So you are interested in being your own boss by becoming a professional refinisher? Hawk believes in "setting up for success" by making sure you're fully prepared with the proper training. Whether you are an established refinishing company or just starting out, Hawk offers a comprehensive refinishing training program for all preparation, application and safety procedures for multiple applications and surfaces.

Led by Ron Lajun, an experienced and well-known refinishing industry veteran, Hawk offers training solutions that fit your schedule and that can quickly get you on your way to satisfying your own bathtub refinishing customers. Once you've been trained, you'll be fully prepared to start serving your community with bathtub, tile and countertop refinishing of the highest quality.

But it's not enough to just have the necessary refinishing skills. To run and grow a successful refinishing business you must be able to generate leads and convert them into sales. You must also be able to troubleshoot problems, apply marketing techniques and manage the day to day operations of your refinishing business. Fortunately, our training includes proven tactics for promoting your bathtub refinishing enterprise so that you can start winning customers from day one. And with Hawk's unparalleled customer service and technical support, we will always be there to support you as you grow your business.

TRAINING CLASS

Hawk believes strongly in providing the best training experience for our customers. We do not believe that you can effectively learn to be a professional refinisher in a large group environment or in a one or two-day class. Refinishing is an art and a process. Spraying in a classroom with the guidance, support and encouragement of an experienced trainer will provide you the greatest opportunity for success.
Hawk provides a comprehensive 3-Day Training course which covers the following refinishing components:
Applications and coatings selection – bath, tile and countertops

Comprehensive preparation and spraying techniques

Spray and safety equipment usage and maintenance
Troubleshooting and problem solving
Effective marketing and advertising
Customer service and sales tactics and much more
We can also custom design a training course to meet your specific needs or interests.

CALL US TODAY AT 800 321 4295 FOR ADDITIONAL INFORMATION ON OUR TRAINING CLASS OR E-MAIL US AT SALES@HAWKLABS.COM.
​​​​
SureStep™ Walk-in Tub System
This installation video includes an overview of the SureStep installation kit and step-by-step instructions for the SureStep installation.
Dream Metallics™ Collection – Countertop Refinishing
This instructional video will show you how to refinish a countertop surface using Hawk Laboratories unique Dream Metallics™ Collection over StoneFlecks™ Ultra Multicolor Finish.
Sterlion with Siltrac Technology
Introducing the refinishing industry's first antimicrobial coatings
This video will provide helpful background on how Hawk's Sterlion antimicrobial can benefit your coatings, detail its bacteria fighting performance, define the Siltrac technology and provide an overview of the regulatory landscape.
StoneFlecks and Dynamic Fleck Enhancer instructional video
This instructional video for the refinishing professional will demonstrate how to use Dynamic Fleck Enhancer (DFE) with Hawk's StoneFlecks coatings to create a beautiful, stone looking finish with a larger, more natural stone particle size.