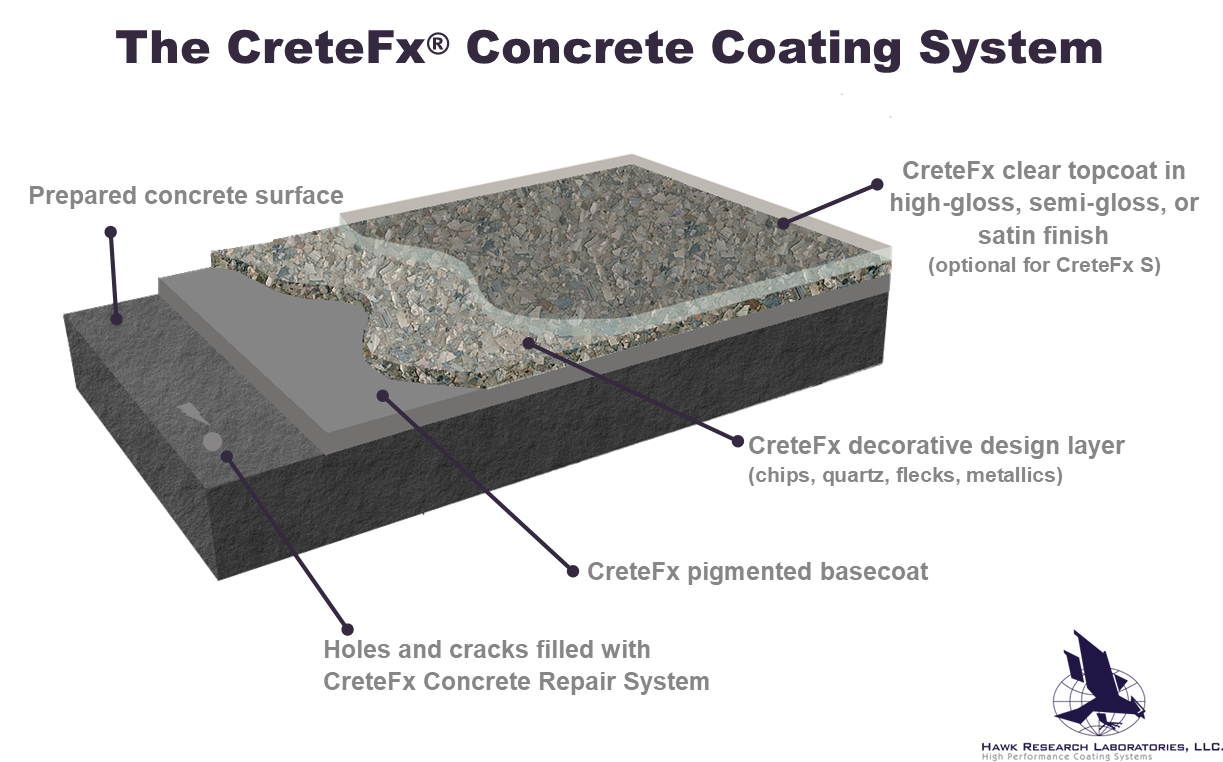 Garages and basements aren't just for storage anymore, they are being transformed into beautiful and decorative extensions of the living and working spaces. It's easy to convert boring bare concrete surfaces into stylish and functional space using Hawk's
CreteFx® Concrete Resurfacing Systems
- available in a range of solid colors, decorative multi-color chip, quartz, or metallic finishes.
With the
CreteFx Concrete Coatings
, a typical 500 square foot two-car garage can be open to
foot traffic in as little as two hours
after topcoat application,
and vehicular traffic the next day
depending on the system chosen and the ambient conditions.
PREPARATION
Grind the surface
Thoroughly grind the surface using a power grinder.
Repair
Once the surface has been cleaned of any grinding debris, repair holes and cracks using
CreteFx Concrete Repair System
.
Moisture testing
Using a moisture testing kit, determine if a moisture vapor barrier like
CreteFx MoistureShield
is required.
BASECOAT
Evenly apply the
CreteFx E, CreteFx P, CreteFx MoistureShield or CreteFx WB basecoat system
using a roller or squeegee.
DECORATIVE COAT
Dream Flecks
Allow basecoat to dry. Once dry, spray-apply three to four coats of the Dream Flecks multi-color finish using an HVLP spray gun with a cross-hatching technique until desired coverage and look is achieved. First coat should be applied lightly, followed by two to three heavier coats.
Dream Chips or Dream Quartz
While the basecoat is still tacky, evenly toss the chips or quartz in the air above the floor and allow it to fall naturally. Repeat until the basecoat is evenly covered and the chips or quartz will no longer stick to the basecoat. Once dry, lightly sand to attain desired smoothness.
Dream
Metallic
Allow basecoat to dry. Once dry apply
CreteFx S Coating System
mixed with
Dream Metallics Pigments
for the primary flood coat color using roller, squeegee, or brush, starting with the footers and edges. Then add CreteFx S Coating System mixed with Dream Metallics Pigments for the accent colors in the desired design and pattern. A heat gun or torch can be used to spread material and remove any bubbles while the product is still setting up. Isopropyl or denatured alcohol can be sprayed over coating to achieve other desired looks. The product will continue to flow for several hours after application.
Note: to improve traction, while the coating is still wet broadcast
CreteFx Traction Additive
after desired design is achieved. Traction additive will alter the metallic look.
TOPCOAT*
Evenly apply the clear
CreteFx E, CreteFx P, or CreteFx Fusion
topcoat system using a roller or squeegee.
Note: a topcoat is not required for
CreteFx S
unless a satin or semi-gloss sheen is desired, in which case
CreteFx Fusion
should be applied.
* All topcoat systems are available with Sterlion™ antimicrobial with SilTrac™ technology that protects the surface from product damaging bacteria.