COUNTERCOTE™ TOPCOAT SYSTEM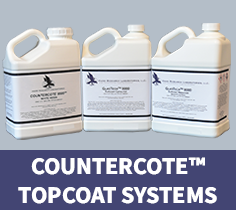 CounterCote 9500 topcoat is an acrylic urethane counter top and cabinet refinishing system that, when cured,
resembles a pressure-cured laminate surface. CounterCote 9500 topcoat is designed to perform under the harsh abuse
that kitchen and bath surfaces endure in apartment, hotel and health care environments. CounterCote 9500 topcoat is
an excellent choice for countertops, cabinets, vanities, cultured marble, appliances and any other surface where a semigloss
appearance is desired. Available in many stock and custom colors, as well as clear.
Available in 4-hour and 24-hour cure
Can create an eggshell texture
Highly rated against stains and scuffs
All topcoat systems are available with Sterlion™ antimicrobial with SilTrac™ technology that will inhibit the growth of bacteria on the surface and protect the surface from product damaging bacteria.