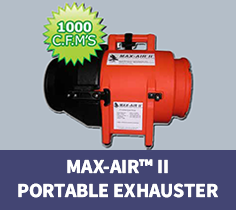 The Max- Air II exhauster provides the best protection against fumes for the customer and the refinisher. In addition, the high volume of continued air movement improves application performance through quicker flash times, reducing runs, sags and blushing in the finish. The solvent resistant 8-inch hoses can be easily connected together for any desired length. Max-Air II comes with a full manufacturer's warranty.
Max-Air Features:
Efficient removal of fumes means better visibility, quicker flash, and recoat times
Dust related problems are minimized
Powerful motor (maximum 1000 CFM)
Portable and light weight (17 lbs)
Complete system comes with:
Motor
Housing and intake adapter
25-foot intake hose
25-foot exhaust hose
8-inch duct coupler
2-2pk strap kit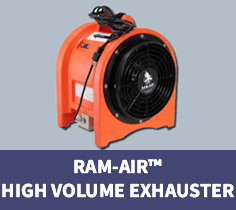 The Ram-Air high volume exhauster is a 12-inch turbo fan. The fan's blade shape is designed to move the large amounts of air efficiently. The complete system includes a motor, housing and intake adapter, 25-foot intake hose with strap, 25-foot exhaust hose with strap, 12-inch connector with strap and 100 disposable pre-filters.
Ram-Air Features:
Dual voltage/dual frequency/one unit
High impact polyethylene shell
Glass-filled nylon turbo fan blade
Low starting amps
Standard 16-foot/4.6 power cord
On/off switch
37lbs/17kg
Motor (Output): 50Hz-0.75kW 60Hz-1.0Hp
Dimensions: 20 inch height/15.5 inch width /12 inch depth
508H/394W/305d mm
Electrical (Input): 115/230VAC 60Hz-1.0Hp