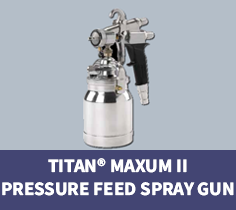 The Titan Maxum II pressure feed paint spray gun is typically used for covering large surfaces like bathtubs, countertops or cabinets.
Simple solvent-resistant spray gun and cup design is easy to clean and maintain.
This HVLP paint spray gun is widely used for:
Bathtub refinishing
Tile refinishing
Countertop refinishing
Cabinet refinishing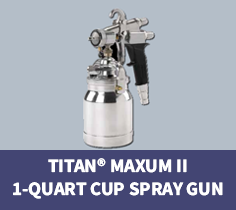 The Titan Maxum II 1-quart gun has the ability to convert from a non-bleeder to a bleeder gun. Non-bleeder guns eliminate constant air discharge, which may spray onto newly painted surfaces. The bleed configuration gives maximum air flow for breaking up highly viscous materials. By removing the
pin, the Titan Maxum II gun can be converted to a soft pull trigger, providing maximum comfort when spraying lighter viscosity coatings, such as stains and sealers.
Features:
Multi-position "click-in" aircap
Stainless steel needle and nozzle
Cleanable, replaceable check value
Multi-position swiveling pick-up tube
2-stage trigger pull
Equipped with a standard #3 Proset (needle set)
Ergonomic handle