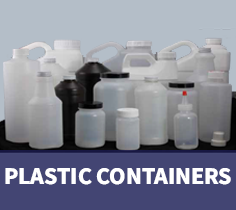 Empty containers can be used for better inventory control, waste collection, special color matches, and leftover product. These empty containers are high density polypropylene and barrier lined. They are available in a variety of sizes.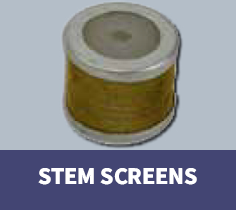 Hawk's Stem Screens fit all stem type spray guns.
50 x 60 mesh brass wire avoids gun clogging

Polyethylene gasket grips the fluid tube securely

Fits all spray guns

Adjustable up to 7/16 inches and larger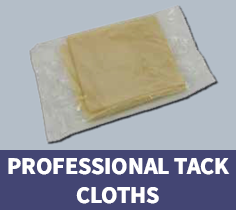 The fast, sure and easy way to produce a completely dust, lint and speck free surface. Ideal for any spray, paint or finish job on metal or wood.
Contains No:
Oils
Solvents
Silicones
Other material that may affect adhesion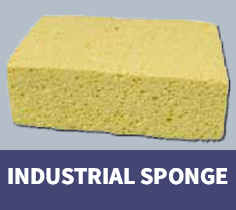 This polyester based sponge is resistant to acids and stripping agents.
Long lasting
7 inches x 4 3/8 inch x 2 1/8 inch
Wipes and cleans quickly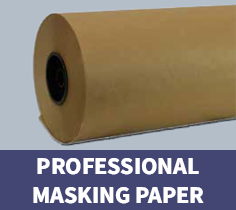 Hawk Research Laboratories' masking paper is 40-pound stock which safely protects walls, floors and other fixtures close to the refinishing process. Solvent and acid resistant, the thick stock does not easily rip or tear and is easy to handle and apply. The high quality masking paper will leave a very professional impression, particularly on important sample jobs.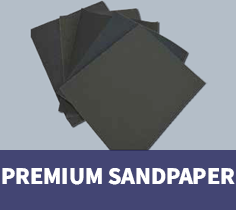 Hawk Research Laboratories' silicone carbide sandpaper is a long-lasting, low cost and waterproof sandpaper, ideal for both wet and dry sanding. Each sheet sheet measures 9 inches x 11 inches.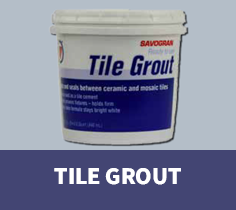 Hawk's Tile Grout quickly replaces damaged grout. Tile can be sprayed in as little as 15 minutes after application. Great for quickly filling grout lines, cracks, crevices, holes, etc., before and during the tile refinishing process.
Fills gaps up to 1/8 inch
Paintable and water-resistant
Quickly replaces damaged grout
Dries quickly and can be sprayed over in as little as 15 minutes
Excellent for quick tile grout repair jobs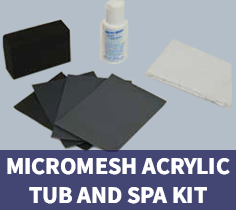 The Micro-Mesh Acrylic Tub and Spa Kit is designed to remove surface scratches and blemishes on acrylic tubs, showers and spas and restores acrylic surfaces to like-new conditions.
Kit Contents:
1-3" x 4" Sheet 2400
1-3" x 3" Sheet 3200
1-3" x 4" Sheet 4000
1-3" x 4" Sheet 6000
1-2" x 3" Foam Block
1-1oz. MicroGloss Polish
1-11.5" x 12" Flannel
Sheet
Instructions
Brochure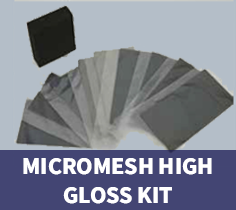 The Micro-Mesh High Gloss Kit is designed for use on refinished surfaces. A highly reflective finish (95º+), satin, or matte finish can be achieved, depending on the number of steps completed. This makes it an excellent product for spot matching of finishes.
Kit Contents:
2-3" x 6" Sheet 1500
2-3" x 6" Sheet 1800
2-3" x 6" Sheet 2400
2-3" x 6" Sheet 3200
2-3" x 6" Sheet 3600
2-3" x 6" Sheet 4000
2-3" x 6" Sheet 6000
2-3" x 6" Sheet 8000
2-3" x 6" Sheet 12000
1-3" x 3" Foam Block
Instructions
Brochure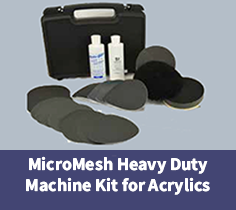 Micro-Mesh Heavy Duty Machine Kit for Acrylics is designed for larger repairs and restorations. It contains Velcro backed discs, allowing quick changes from one disc to another.
Kit Contents:
5-120 grit wet/dry sandpaper 5" discs
5-220 grit wet/dry sandpaper 5" discs
5-400 grit wet/dry sandpaper 5" discs
2-1500 MICRO-MESH 5" discs
2-2400 MICRO-MESH 5" discs
2-3600 MICRO-MESH 5" discs
White foam sponge pad
Tuf-Buf™ polishing pad
Back-up pad
8 oz. bottle of MICRO-GLOSS
8 oz. bottle of Anti-Static cream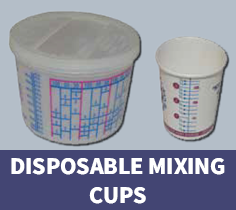 Control reductions for accurate spraying with disposable mixing cups.
Consistent and precise measurements
Avoid under or clear catalyzing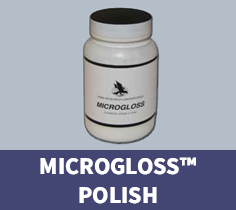 Polish formulated to remove superficial scratches and other light surface damages on acrylic surfaces.
Liquid polish
Removes hairline scratches
Produces a high-gloss surface
Excellent for use after any MicroMesh Kit process