HAWK HVLP PAINT SPRAY SYSTEMS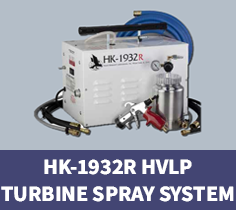 The HK-1932R spray system is designed to spray a wide variety of coatings, including high viscosity coatings such as StoneFlecks™ Ultra and other water based multicolor coatings.
Dual motor design
Light weight (38lbs)
7.2-inch diameter, 3 stage motor (produces 6 PSI of pressure)
2-quart remote pressure pot
Coupled with a dual stage air filter system
Extended warranty available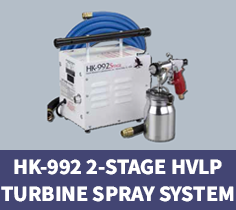 5.7-inch 2 stage turbine; 52 CFM at 3/4 inch restriction; 104 CFM unrestricted. Delivers 4.25 PSI at the gun
Main filter with a pre-filter (same principal as the larger systems), providing cooler operating temperatures and longer turbine life
25-foot air hose with shut off and quick disconnect
HVLP bleeder style gun with one quart cup assembly and cleaning kit
SPECIFICATIONS
8 inches wide x 9.5 inches high x 11 inches long
110 volts 8 amps
Complete line of accessories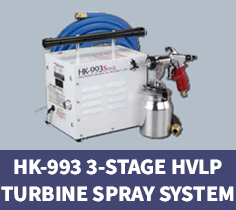 This 3-stage turbine spray system is ideal for higher viscosity coatings, including high solids coatings and performs well with the StoneFlecksTM Ultra multicolor product line.

The turbine delivers 61.5 CFM at 3/4 inch restriction and 6.0 PSI measured at the air cap using the standard 2-foot hose. This turbine is lightweight, weighing only 18lbs.

Due to the quality of the motor and its proven reliability, the HK-993 3-stage spray system comes with a factor warranty with registration. Call for details.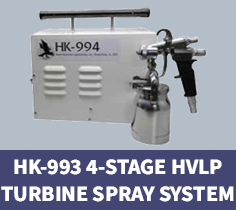 This HVLP turbine spraying system features a higher atomization pressure of 7 PSI at air tip, which allows the spraying of latex paint, multicolor and more viscous types of paints that cannot be reduced.
Turbine Features:
Light weight portable design
5.7-inch diameter, 4-stage turbine
46.3 CFM at 3/4 inch restriction with hose attached
7.0 PSI measured at the air cap using 25 foot turbine air hose (HK-993 produces 6 PSI) 16.6% increase
12 amp motor, can operate on a house circuit like the HK-993